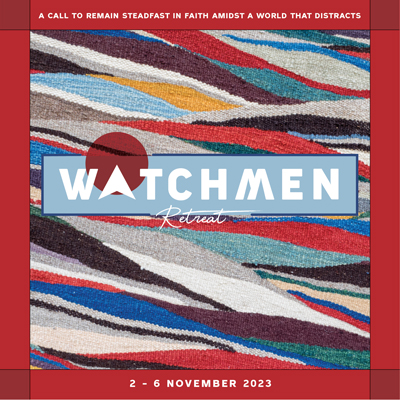 2023 WATCHMEN RETREAT
Thursday, 2 November 2023 - Monday, 6 November 2023
If we are not careful, we can easily allow the noise of the world to drown out the still, small voice of God within us. When this happens, we can stray from God, and be swept by the currents of the world.
In this retreat, come away with Him to learn how you can anchor your faith, and be a disciple who stays vigilant and is attentive to the Holy Spirit. Rest in His presence and truths, and be strengthened to remain steadfast in your walk with Him.
Led by the Episcopal Vicar for the New Evangelisation, Rev. Fr. Terence Pereira, together with Gloria Patri Charismatic Ministry, the Watchmen Retreat will include talks, sharing, praise and worship, as well as spiritual counselling.
—-—-
Retreat Fees: $400 (Accommodation and meals are covered under the Retreat Fees)
Sign-ups are on a first-come-first-serve basis. Registration closes 8 October 2023 or when retreat capacity is full, whichever is earlier.
Please make payment of the retreat fees within 48 hours of registration in order to confirm a space. You will receive payment instructions after registration. Upon confirmation, your place is non transferable and payment is non-refundable.
PayNow UEN: T08CC4023DEV1
*Priority will be given to first-time registrants who have not participated in the Watchmen retreat before.
FAQ
What will we do at the retreat?
This is a stay-in retreat, and will include talks, sharing, praise and worship, as well as spiritual counselling. Participants would have to be able to commit to the full duration of the programme. Participants are expected to observe silence unless otherwise specified.
What does the retreat fee include?
The retreat fee of $400 is inclusive of accommodation, meals, coach charters, and stipends. Please make payment within 48 hours of registering. Payment details will be sent to your email after submission of registration. Upon confirmation, your place is non transferable and payment is non-refundable. If you have been allocated a waitlist slot, please only make payment after your place is confirmed.
How are we going to get there?
2-way bus transport will be chartered by the Office for the New Evangelisation that will bring us from Singapore to Majodi Retreat Centre on 2 Nov, and from Majodi Retreat Centre to Singapore on 6 Nov. The pickup location in Singapore will be confirmed at a later date.
What time do we have to report?
2 November – Reporting time is at 6.30am at Highland Road
Can I go there on my own?
All participants are required to follow the chartered itinerary.
What if I fall ill during the retreat?
In the event where a participant contracts COVID-19, separate accommodation within the retreat facility can be arranged but any additional incurred costs will be borne by the participant.
What are the meal arrangements for this retreat?
All meals will be provided. Please let us know of any dietary allergies you have.
To note
Safety Measures
From 1st August 2022, all travellers are allowed to enter Malaysia regardless of their COVID-19 vaccination status and do not require a pre-departure or on-arrival COVID-19 test. There are no quarantine orders related to COVID-19 enforced by the Malaysian Government upon arrival. For more information, visit https://mysafetravel.gov.my/
Insurance Coverage
Basic travel insurance is not covered by the Office for the New Evangelisation. Participants are strongly encouraged to purchase personal travel insurance coverage, which should also cover COVID-19 benefits.
Logistics required for Entry into Malaysia
Passport with more than 6 months validity at the time of entry

Download MySejahtera (Malaysia's version of TraceTogether) App onto your phone
The list mentioned above is non exhaustive.
Testimonies
"I found the talk on Spiritual Warfare & how to stand guard to be the most beneficial." – Caroline
"The spiritual counselling was very comforting. I have encountered the following words in daily scripture, but to have someone tell me, 'my daughter. I am with you. I am pleased with you. My mother is with you.' That was very powerful." – Cindy
"All the talks are beneficial. At each talk there were points that I was prompted to reflect on and make a change in my life to be a watchman." – Sulyni