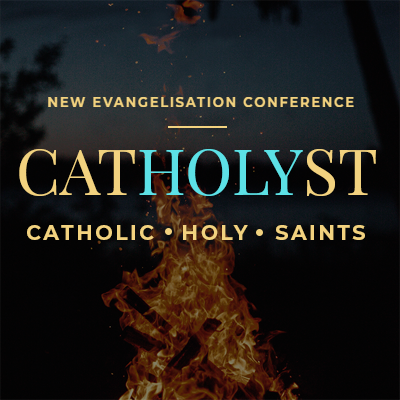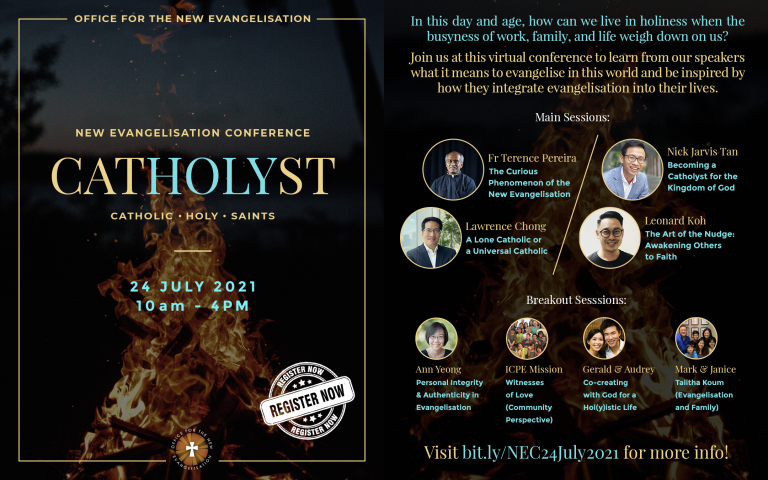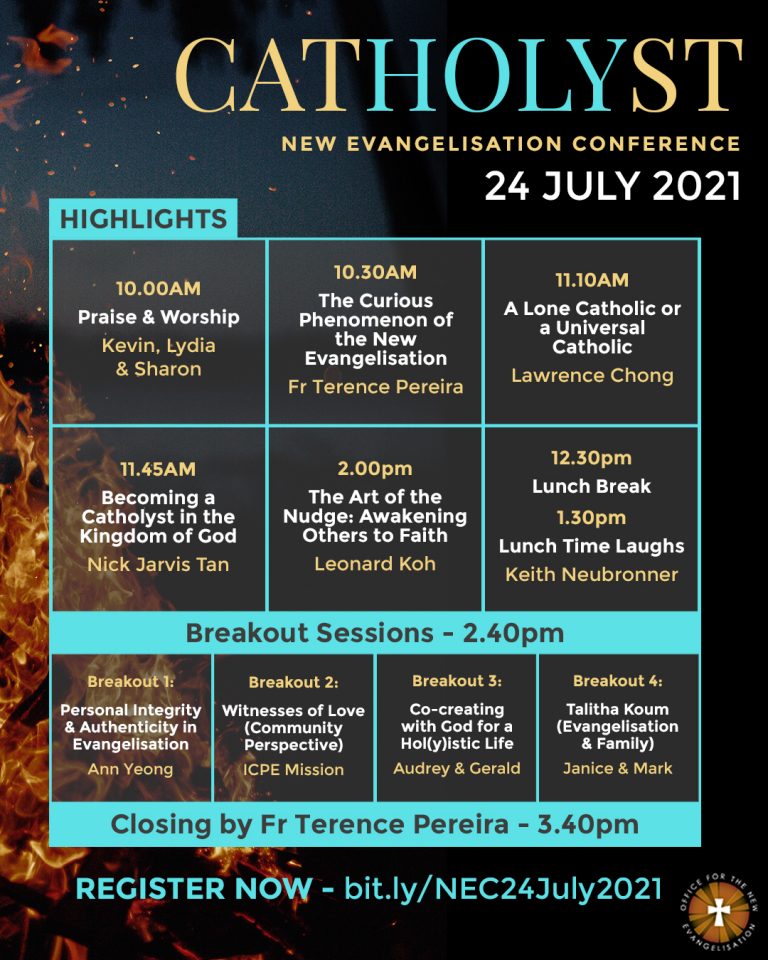 2021 New Evangelisation Conference
Saturday, 24 July 2021
In this world and age, what does it mean to be Catholic? How can we live in holiness when the busyness of work, commitment of family, and stress of life weigh down on us?
We are called to be saints in the world. We are called to bring the flame of Christ to all whom we meet. We are called to be the Catholyst. To spark, to provoke, to accelerate a reaction in the depth of people's hearts to know our God, the God of Love.
Join us at this virtual conference to learn how we can live the life that we are called to. Learn from our speakers what it means to evangelise in this world and join our breakout sessions to be inspired as our presenters share how they integrate evangelisation into their work, family, and life.
About the speakers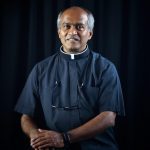 Rev. Fr. Terence Pereira, Episcopal Vicar for the New Evangelisation
A priest after the Good Shepherd's heart, Fr. Terence's great desire is to see all lay faithful learn and grow to be disciples of Jesus Christ. As the Episcopal Vicar for the New Evangelisation, he leads ONE in promoting the work of evangelisation and disciple-making in Singapore.

𝗠𝗮𝗶𝗻 𝗦𝗲𝘀𝘀𝗶𝗼𝗻: 𝗧𝗵𝗲 𝗖𝘂𝗿𝗶𝗼𝘂𝘀 𝗣𝗵𝗲𝗻𝗼𝗺𝗲𝗻𝗼𝗻 𝗼𝗳 𝘁𝗵𝗲 𝗡𝗲𝘄 𝗘𝘃𝗮𝗻𝗴𝗲𝗹𝗶𝘀𝗮𝘁𝗶𝗼𝗻
'Ever ancient ever new' is a good way to understand the New Evangelisation. It is not a new idea but yet it is always new. How so? If the New Evangelisation is an essential part of our existence, what have we been doing to influence and impact? What are the opportunities ahead to infuse the Good News everywhere we go?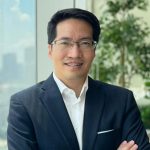 Lawrence Chong
Lawrence serves as Group CEO of Consulus, a Global Innovation by Design Firm. He has helped shape transformation strategies for Catholic institutions globally in economy, media, education and parish. He was appointed by Pope Francis to serve as Consultor on the Pontifical Council for Interreligious Dialogue in 2020. He is a member of the Focolare Movement.

𝗠𝗮𝗶𝗻 𝗦𝗲𝘀𝘀𝗶𝗼𝗻: 𝗔 𝗟𝗼𝗻𝗲 𝗖𝗮𝘁𝗵𝗼𝗹𝗶𝗰 𝗼𝗿 𝗔 𝗨𝗻𝗶𝘃𝗲𝗿𝘀𝗮𝗹 𝗖𝗮𝘁𝗵𝗼𝗹𝗶𝗰
How we can appreciate the universality of Catholicism then realise and harness the vast capacity of the Global Church to shape our personal or organisational strategies for evangelisation in a complex world.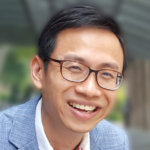 Nick Jarvis Tan
A striving Catholyst, Nick Jarvis is bi-vocational. He runs a corporate training and executive coaching business, and serves as the evangelisation strategist at the Office for the New Evangelisation. For him as a lay Catholic, there is no divide between church and corporate work. All is Kingdom work. Nick Jarvis celebrates a decade of marriage with his sweetheart. On the weekends, you may spot him at playgrounds, monkeying around with his two daughters.

𝗠𝗮𝗶𝗻 𝗦𝗲𝘀𝘀𝗶𝗼𝗻: 𝗕𝗲𝗰𝗼𝗺𝗶𝗻𝗴 𝗮 𝗖𝗮𝘁𝗵𝗼𝗹𝘆𝘀𝘁 𝗳𝗼𝗿 𝘁𝗵𝗲 𝗞𝗶𝗻𝗴𝗱𝗼𝗺 𝗼𝗳 𝗚𝗼𝗱
God is always creating something anew! He is breathing new life, into the new evangelists in this new times. Catholyst - Catholic, Holy, Saint - are Catholics who are universal in their evangelisation ministry. They are holy; taking a whole-life approach to discipleship and make holy again all fields of human activities. They are the saints-next-door; in person or online, loving and serving God's people with their gifts.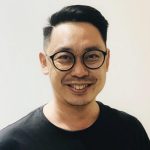 Leonard Koh
Leonard is the Formation Manager at ONE. He was previously on staff at the Catholic Spirituality Centre, first as its Youth Ministry Director and then as Senior Manager of Programme and Pastoral Care. Leonard had his world turned right-side-up when he personally encountered Jesus at the age of fifteen. Since then, the purpose of his life is to make Jesus famous. Leonard is passionate about leading people in a growing relationship with God, bringing the Word of God to life and helping ministries flourish. He holds a Masters in Theological Studies and was working as an art director in advertising before being called into full-time ministry.

𝗠𝗮𝗶𝗻 𝗦𝗲𝘀𝘀𝗶𝗼𝗻: 𝗧𝗵𝗲 𝗔𝗿𝘁 𝗼𝗳 𝘁𝗵𝗲 𝗡𝘂𝗱𝗴𝗲: 𝗔𝘄𝗮𝗸𝗲𝗻𝗶𝗻𝗴 𝗢𝘁𝗵𝗲𝗿𝘀 𝘁𝗼 𝗙𝗮𝗶𝘁𝗵
This session offers fresh perspectives to approaching evangelisation in ways that honours how people today naturally come to faith. Learning from Jesus' encounter with the woman at the well, we see an approach to evangelisation that begins with listening to the other, paying attention to what is happening in their situations and nudging them to recognise the God who is already at work in their life.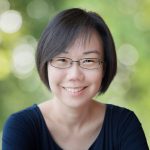 Ann Yeong
Ann has over 12 years of experience in human and spiritual formation in the Catholic Church in Singapore. She founded Parrhesia and Integrō Formation to provide specialised formation with an emphasis on personal integration, restoration and helping individuals discern their personal vocation as disciples of Christ.

𝗕𝗿𝗲𝗮𝗸𝗼𝘂𝘁 𝗦𝗲𝘀𝘀𝗶𝗼𝗻 𝟭: 𝗣𝗲𝗿𝘀𝗼𝗻𝗮𝗹 𝗜𝗻𝘁𝗲𝗴𝗿𝗶𝘁𝘆 & 𝗔𝘂𝘁𝗵𝗲𝗻𝘁𝗶𝗰𝗶𝘁𝘆 𝗶𝗻 𝗘𝘃𝗮𝗻𝗴𝗲𝗹𝗶𝘀𝗮𝘁𝗶𝗼𝗻
Without healthy roots, a tree cannot bear good fruit. In this breakout session, Ann Yeong shares how her answering of God's call to mission brought her unexpectedly into learning the real hidden work every would-be evangeliser must say "YES" to - making the challenging journey into authenticity and wholeness.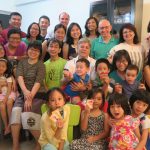 ICPE Mission
The Institute for World Evangelisation - ICPE Mission is a Catholic Mission made up of Christians committed to the goal of world evangelisation, with its members forming communities in various locations worldwide, including Singapore. Through evangelisation, discipleship, community building and works of mercy, the ICPE Mission pursues its purpose of training, formation, serving the Church and affecting the world for Christ. They are an international association of Christ's faithful with Pontifical Right and is the missionary expression of the Glory of God International Covenant Community.

𝗕𝗿𝗲𝗮𝗸𝗼𝘂𝘁 𝗦𝗲𝘀𝘀𝗶𝗼𝗻 𝟮: 𝗪𝗶𝘁𝗻𝗲𝘀𝘀𝗲𝘀 𝗼𝗳 𝗟𝗼𝘃𝗲 (𝗖𝗼𝗺𝗺𝘂𝗻𝗶𝘁𝘆 𝗣𝗲𝗿𝘀𝗽𝗲𝗰𝘁𝗶𝘃𝗲)
While the current pandemic may have created a 'new normal' in which people live, work and worship, some fundamentals remain a constant - that of our need for communion, community, and Christ-centered discipline. Through this session, find out how the ICPE community evangelise as ambassadors of Christ, through their everyday lives - encountering people, being bearers of hope, building relationships, maintaining authenticity in the work that they do and engendering love in their families, to reflect the active presence of God to all.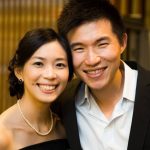 Gerald Tock & Audrey Tan
Gerald Tock and Audrey Tan are husband and wife to each other, otherwise known as Gerdrey. They are both entrepreneurs whose call is to be missionaries in the marketplace, sharing our Lord's healing love and joy. Gerald's career has taken him on many adventures, which include making video games, designing government policy and investing in innovation across borders. Audrey is the Chief Dreams Architect of PlayMoolah and Circles of Angels, inspiring change in the future of money and impact for a flourishing life and world.

𝗕𝗿𝗲𝗮𝗸𝗼𝘂𝘁 𝗦𝗲𝘀𝘀𝗶𝗼𝗻 𝟯: 𝗖𝗼-𝗰𝗿𝗲𝗮𝘁𝗶𝗻𝗴 𝘄𝗶𝘁𝗵 𝗚𝗼𝗱 𝗳𝗼𝗿 𝗮 𝗛𝗼𝗹(𝘆)𝗶𝘀𝘁𝗶𝗰 𝗟𝗶𝗳𝗲
How does the God of creativity and inspiration bring us closer to Him through our vocation, our family, community, mission and His Will? In this session, Gerald and Audrey will share how the Lord inspires love, joy and stewardship in an integrated and hol(y)listic life at home, in their workplace and in their mission fields. Life, family, work and our dreams can be disconnected at times, how does it all come together?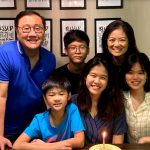 Mark Lim & Janice Say
Mark and Janice are parents to 4 children from ages 11 to 20 years old. They have been involved in the work of evangelisation since their youth, from Hosanna! Music Ministry, to founding members of Family Life Ministry and other ministries at Church of the Holy Spirit and now reaching out to children through pre-segment for Sunday Online Mass with Children and BE.live Ministry running Bible Arts Camp and Kids Praise Party. God shaped their ministry according to their seasons of courtship, family life and parenthood to their personal mission of bringing Jesus and the love of God to children through praising, praying and proclaiming.

𝗕𝗿𝗲𝗮𝗸𝗼𝘂𝘁 𝗦𝗲𝘀𝘀𝗶𝗼𝗻 𝟰: 𝗧𝗮𝗹𝗶𝘁𝗵𝗮 𝗞𝗼𝘂𝗺 (𝗘𝘃𝗮𝗻𝗴𝗲𝗹𝗶𝘀𝗮𝘁𝗶𝗼𝗻 & 𝗙𝗮𝗺𝗶𝗹𝘆)
As Church, we are called to the mission of bringing the good news of Jesus to God's people. In this breakout session, Mark and Janice Lim share how God has engineered His way into their lives to bring about a life of mission focusing on children and families. Join them on this journey of discovering how God has called them to rise up to the needs of the church amidst struggles and challenges and finding balance in family life while serving God's people.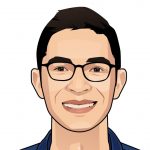 Keith Neubronner
A communicator and story-teller at heart, Keith has been in full-time ministry for over 9 years and is a faith-based comic on the side. He's also the Assistant Programme Manager for CatholicSG Radio, the Archdiocese's very own online radio stream. He is one half of the Glory and Praise Show (GPS) with André & Keith, otherwise known as 'the morning show'.

Stay tuned for his Lunch Time Comedy Set during the Conference.