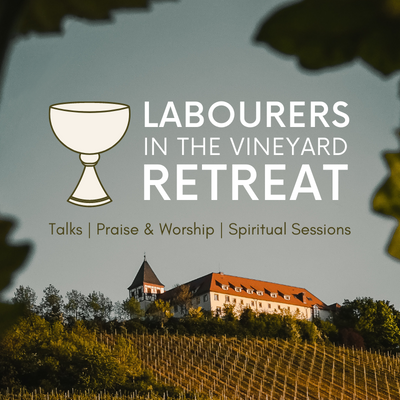 FAQs for Labourers in the Vineyard 2023
Peace be with you!
Praise the Lord for your interest in the upcoming Labourers in the Vineyard Retreat 2023. 
Here are some FAQs regarding the retreat. For more enquiries, please email us at enquiries.one@catholic.org.sg 
When and where is this retreat?
Date: 9 March to 13 March 2023
Venue: Majodi Centre (Taman Perindustrian Sri Plentong, 81750 Masai, Johor, Malaysia)
Who is this retreat for?
This 5-day stay-in retreat is for anyone who is interested in deepening and strengthening their faith while actively waiting for the Lord. 
What will we do at the retreat?
This is a stay-in retreat, and will include talks, sharing, praise and worship, as well as spiritual counselling. Participants would have to be able to commit to the full duration of the programme.
Participants are expected to observe silence throughout the retreat. 
How do I make payment for the retreat?
The retreat fees are S$400, and will include accommodation, meals, and transport. Please make payment within 48 hours of registering. Payment details will be sent to your email after submission of registration. Please note that payments are non-refundable and non-transferrable.
If you have been allocated a waitlist slot, please only make payment after your slot is confirmed.
How are we going to get there?
A 2-way bus will be chartered by the Office for the New Evangelisation that will bring us from Singapore to Majodi Retreat Centre on 9 March and from Majodi Retreat Centre to Singapore on 13 March.
The pickup location in Singapore will be tentatively set at the Catholic Archdiocesan Education Centre, 2 Highland Rd S549102.
What time do we have to report?
9 March – Reporting time at 7:00am in Singapore (at CAEC) for Majodi Centre, JB.
13 March – Departing time at 2:00pm from Majodi Centre for Singapore.
Can I go there on my own?
All participants are required to follow the chartered itinerary.


What if I fall ill during the retreat?
In the event where a participant contracts COVID-19, separate accommodation within the retreat facility could be arranged but any additional incurred costs will be borne by the participant.
What are the meal arrangements for this retreat?
Meals will all be provided. Please let us know of any dietary allergies you have.
Other important things to note:
Safety Measures
From 1st August 2022, all travellers are allowed to enter Malaysia regardless of their COVID-19 vaccination status and do not require a pre-departure or on-arrival COVID-19 test. There are no quarantine orders related to COVID-19 enforced by the Malaysian Government upon arrival.
For more information, visit https://mysafetravel.gov.my/
Insurance Coverage
Basic travel insurance is not covered by the Office for the New Evangelisation. Participants are strongly encouraged to purchase personal travel insurance coverage, which should also cover COVID-19 benefits.
Logistics required for Entry into Malaysia
Passport with more than 6 months validity at the time of entry

Download MySejahtera (Malaysia's version of TraceTogether) App onto your phone

The list mentioned above is non exhaustive.