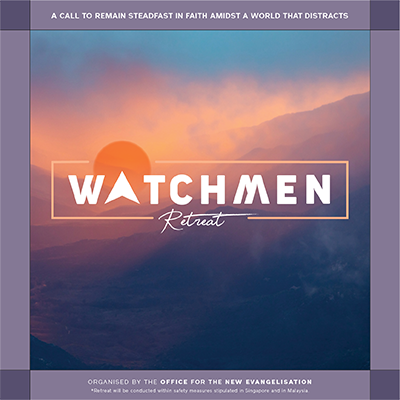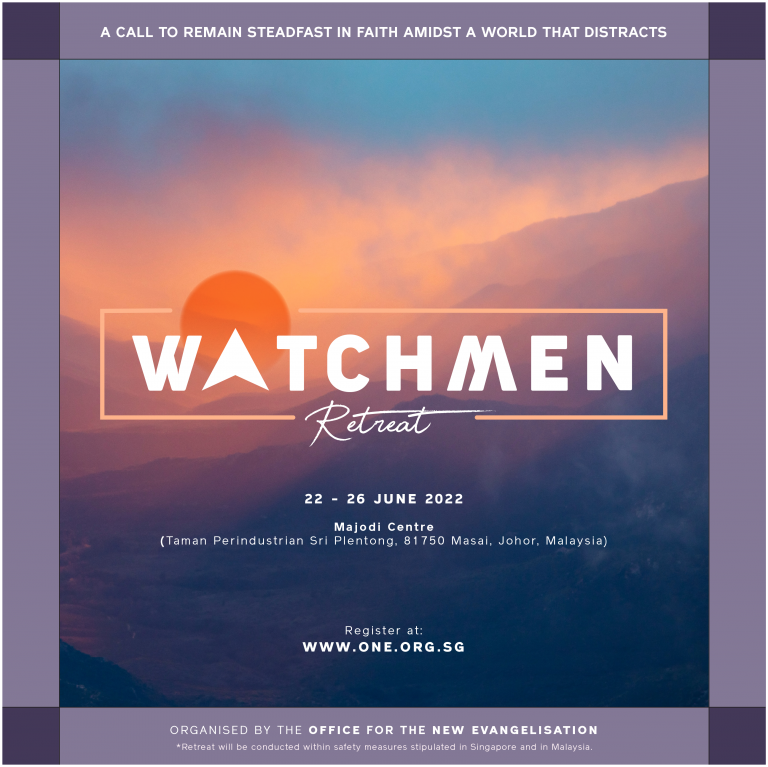 2022 Watchmen Retreat
Wednesday, 22 June 2022 - Sunday, 26 June 2022
The Watchmen Retreat is an invitation to equip yourself to remain steadfast in your faith and be on guard against the distractions of the world. This 5-day stay-in retreat is for anyone who is interested in deepening and strengthening their faith while actively waiting for the Lord.
The noise of the world can sometimes drown out the voice of our Lord and distract us from our journey with Him. He is calling you to come away with Him to learn, to deepen, and to strengthen your faith that you may remain steadfast and continuously walk with Him.
Led by the Episcopal Vicar for the New Evangelisation, Rev. Fr. Terence Pereira, together with Gloria Patri Charismatic Ministry, Watchmen Retreat will include talks, sharing, praise and worship, as well as spiritual sessions and direction.
Date: 22 to 26 June 2022
Venue: Majodi Centre (Taman Perindustrian Sri Plentong, 81750 Masai, Johor, Malaysia)
Retreat Fees: $400 (Accommodation, meals, transport and basic travel insurance are covered under the Retreat Fees)
Sign-ups are on a first-come-first-serve basis as we are limited to a maximum of 80 places. Registration closes 8 June 2022.
Payment of the retreat fees must be made within 48 hours of registration, and payments made are non-refundable and non-transferable. Do note that spaces are limited and that registration will only be confirmed upon payment of the fee. Payment instructions will be reflected after registration.

PayNow UEN: T08CC4023DEV1
*The retreat will be conducted within safety measures stipulated in Singapore and Malaysia. Participants are also required to be fully vaccinated under the National COVID-19 Immunisation Programme, Malaysia. This retreat is only for first-time registrants who have not participated in the Watchmen retreat before.
Briefing Session
A compulsory briefing session would be conducted on the following dates. Participants are only required to attend either one of the sessions.
Option 1: 9 June (Thursday), 8pm to 10pm
Option 2: 13 June (Monday), 8pm to 10pm
Venue of Briefing Session: St Martin's Room at Catholic Archdiocesan Education Centre (2 Highland Road #01-02 Singapore 549102)

For any FAQs and more information regarding the retreat, please click on this link or the button below.
Retreat Master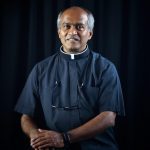 Rev. Fr. Terence Pereira, Episcopal Vicar for the New Evangelisation
A priest after the Good Shepherd's heart, Fr. Terence's great desire is to see all lay faithful learn and grow to be disciples of Jesus Christ. As the Episcopal Vicar for the New Evangelisation, he leads ONE in promoting the work of evangelisation and disciple-making in Singapore.