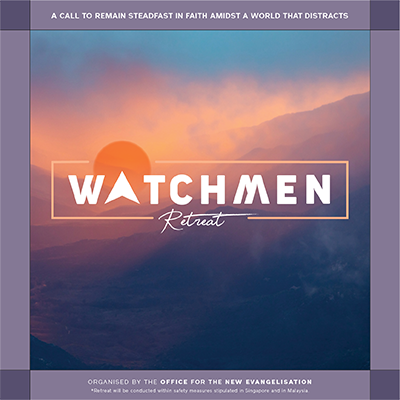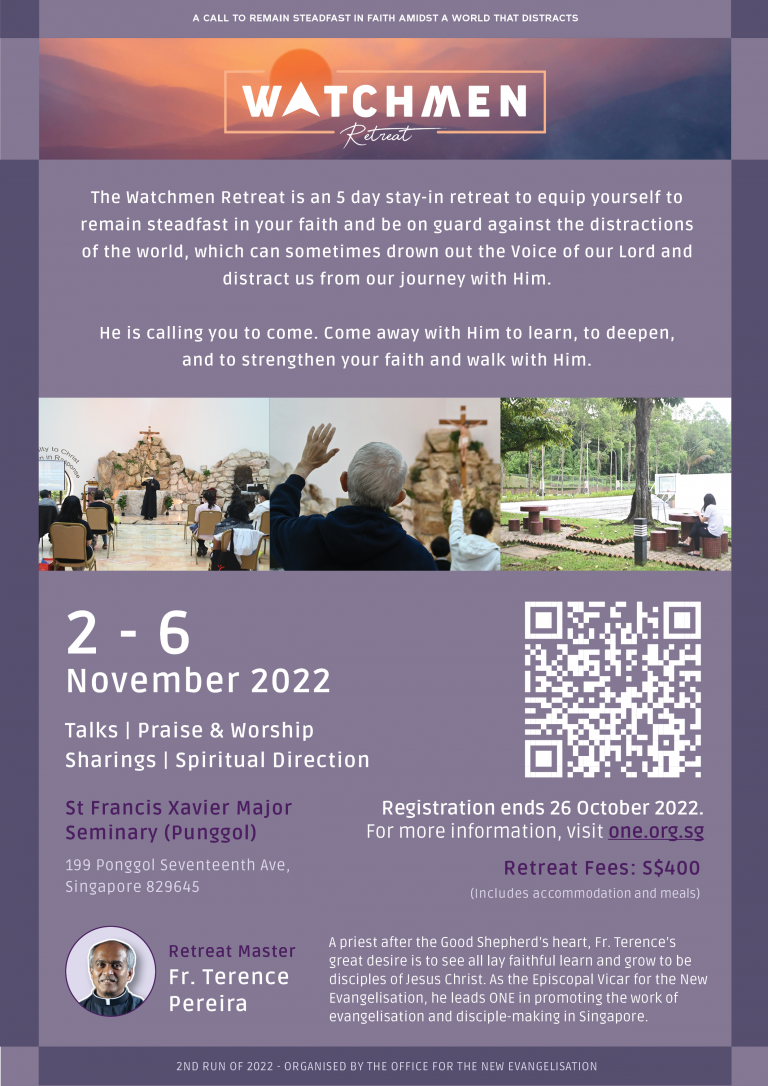 2022 Watchmen Retreat
Wednesday, 2 November 2022 - Sunday, 6 November 2022
The noise of the world can sometimes drown out the voice of our Lord and distract us from our journey with Him. He is calling you to come away with Him to learn, to deepen, and to strengthen your faith that you may remain steadfast and continuously walk with Him.
Led by the Episcopal Vicar for the New Evangelisation, Rev. Fr. Terence Pereira, together with Gloria Patri Charismatic Ministry, Watchmen Retreat will include talks, sharing, praise and worship, as well as spiritual sessions and direction.

This run is the second run for the Watchmen Retreat in 2022.
Watchmen Retreat
Date: 2 to 6 November 2022
Venue: St Francis Xavier Major Seminary at 199 Ponggol Seventeenth Ave, Singapore 829645
Retreat Fees: $400 (Accommodation and meals are covered under the Retreat Fees)
Sign-ups are on a first-come-first-serve basis. Registration closes 26 October 2022 or when retreat capacity is full, whichever is earlier.
Payment of the retreat fees must be made within 48 hours of registration, and payments made are non-refundable and non-transferable. Do note that spaces are limited and that registration will only be confirmed upon payment of the fee. Payment instructions will be reflected after registration.

PayNow UEN: T08CC4023DEV1
*The retreat will be conducted within safety measures stipulated in Singapore. Priority is given to first-time registrants who have not participated in the Watchmen retreat before.
Retreat Master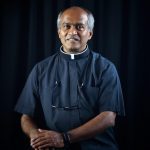 Rev. Fr. Terence Pereira, Episcopal Vicar for the New Evangelisation
A priest after the Good Shepherd's heart, Fr. Terence's great desire is to see all lay faithful learn and grow to be disciples of Jesus Christ. As the Episcopal Vicar for the New Evangelisation, he leads ONE in promoting the work of evangelisation and disciple-making in Singapore.
Testimony
Graced by His Merciful Love
A letter of Thanksgiving to God; Testimony of His Merciful Love.
To: My Most Beloved Father
The Desire and Search
It is by your grace that my heart has been stirred to desire and search for you; it yearns so deeply to know you, to love you, and to be and do the MORE that you have called me to.
The Watchmen Retreat was one of the many that you have called me to obediently say Yes to and allow you to work in and through me. In that season of my life, I felt like I was grasping to find you and to hold on to you in the midst of all the distractions, noise, and temptations of the world. That was also when the call to remain steadfast in faith amidst a world that distracts spoke to me; how you were inviting me to come away with you, and to rest in you; and you will instruct me and teach me the way I should go (Psalms 32:8) – how to remain steadfast in my walk with you, and as I wait upon you… for my heart will always be restless, until it rests in you.
In your Perfect Time
In my walk towards you and with you, you have always made known to me that it is not going to be an easy journey, but you constantly reassure me that you are on this walk with me and affirm me of your faithfulness and merciful Love; through all the graces that you have bestowed upon me, countless blessings, and protection to keep me safe and to continue walking in your light. I was met with a couple of obstacles along the way leading up to the retreat; a fractured ankle 2 days before, an expired passport that would not be ready in time for the subsequent run, but you reassured me time and again that you know my heart's desire and to trust in your perfect timing and plans for me – for not my will, but yours be done (Luke 22:42).
Truly, in your most perfect timing and with all the prayers that were offered up, you heard, you knew, and you answered.
Interior Disposition of Immerse Gratitude
I was simply filled with so much gratitude towards you; how being able to attend the retreat in itself is a gift from you and not to be taken for granted. The interior disposition of immerse gratitude and surrender, allowed me to be fully present with you, and for you to work in and through me in full cooperation.
Empowered to be a Watchman
You spoke so loudly and powerfully through your most Holy Word, and the retreat in its entirety left me more empowered to be a Watchman that you have called us all to be; the importance of watching over our own soul and the souls of others, the awareness of what separates us from you and the ways in which it does, and how do we then go forth to live out the role of a faithful watchman that stands steadfast in faith and suffering.
I thank you, I praise you, and I bless you for all the graces that you've bestowed upon me, for your grace is sufficient for me, and your power is made perfect in my weaknesses (2 Corinthians 12:9). Teach and help me to go forth to be a faithful watchman and a radical disciple of yours in complete obedience, humility, and Love.
With Love,
Your Grateful Child

Callista Anastasia (Watchmen Retreat – June 2022)