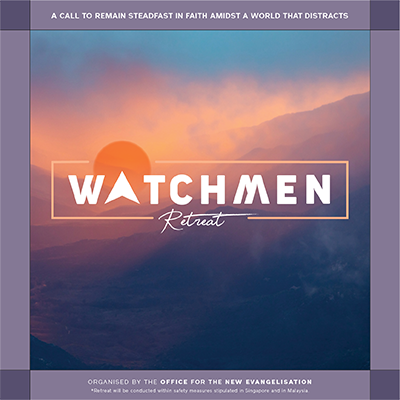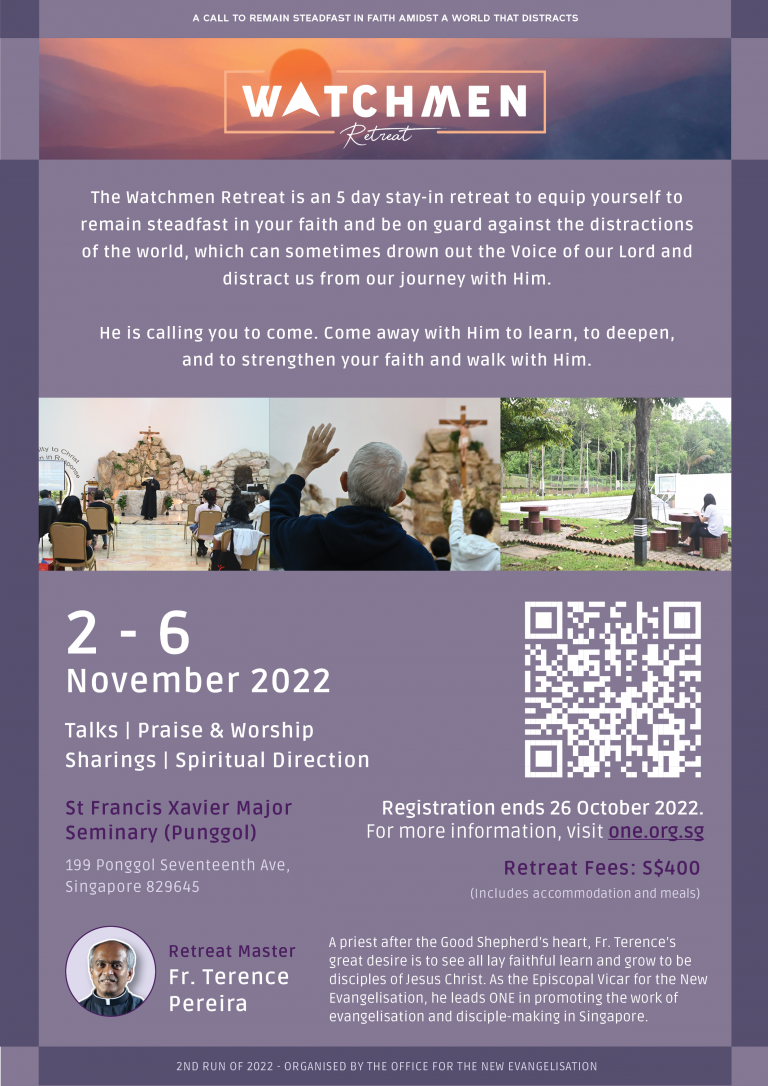 2022 Watchmen Retreat
Wednesday, 2 November 2022 - Sunday, 6 November 2022
The noise of the world can sometimes drown out the voice of our Lord and distract us from our journey with Him. He is calling you to come away with Him to learn, to deepen, and to strengthen your faith that you may remain steadfast and continuously walk with Him.
Led by the Episcopal Vicar for the New Evangelisation, Rev. Fr. Terence Pereira, together with Gloria Patri Charismatic Ministry, Watchmen Retreat will include talks, sharing, praise and worship, as well as spiritual sessions and direction.

This run is the second run for the Watchmen Retreat in 2022.
Watchmen Retreat
Date: 2 to 6 November 2022
Venue: St Francis Xavier Major Seminary at 199 Ponggol Seventeenth Ave, Singapore 829645
Retreat Fees: $400 (Accommodation and meals are covered under the Retreat Fees)
Sign-ups are on a first-come-first-serve basis. Registration closes 26 October 2022 or when retreat capacity is full, whichever is earlier.
Payment of the retreat fees must be made within 48 hours of registration, and payments made are non-refundable and non-transferable. Do note that spaces are limited and that registration will only be confirmed upon payment of the fee. Payment instructions will be reflected after registration.

PayNow UEN: T08CC4023DEV1
*The retreat will be conducted within safety measures stipulated in Singapore. Priority is given to first-time registrants who have not participated in the Watchmen retreat before.
Retreat Master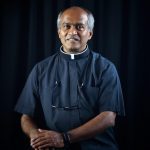 Rev. Fr. Terence Pereira, Episcopal Vicar for the New Evangelisation
A priest after the Good Shepherd's heart, Fr. Terence's great desire is to see all lay faithful learn and grow to be disciples of Jesus Christ. As the Episcopal Vicar for the New Evangelisation, he leads ONE in promoting the work of evangelisation and disciple-making in Singapore.